Any techy or geek child under the age of 12 has seen at least one trailer for Big Hero 6. It's everywhere and it's captivating, even for the grown-up geeks out there. Now, if you have read or know of the comic book series, you may find a lot has changed in the Disney version. If that surprises you, you haven't been paying attention to just about every single Disney movie geared to kids. Ignoring the obvious kid version of the movie, it's pretty darn good.
Before you even get to the feature attraction, you are bombarded with an emotional short film—another Disney trait—called Feast. The short stars an adorable stray puppy that not only finds a home but finds the value in being a good friend, even when it doesn't directly benefit you. The short starts off with a tiny stray puppy in search of food when he is offered a treat and puppy-napped. Here is where the story could have gone horribly bad but it doesn't. The new owner is a single guy living the care-free bachelor life until he meets a woman, the woman of his dreams. The puppy, now full grown, has his life turned upside down as the two humans start to intermingle their single life into a shared one.
If you haven't had your emotional roller coaster fill at the end of the movie, Big Hero 6 will certainly push you further along the coaster line. The plot of Big Hero 6 is pretty simple—a smart kid, not living up to his potential, is thrown into the center of an evil, revenge plot to destroy the city. Hiro, the brilliant 14 year old that has already graduated from high school, is wasting away his talent—according to his big brother, Tadashi—as an underground robot fighter. Hiro utilizes his child-like innocent to con adults into thinking a child's robot could never beat a robot created by an adult.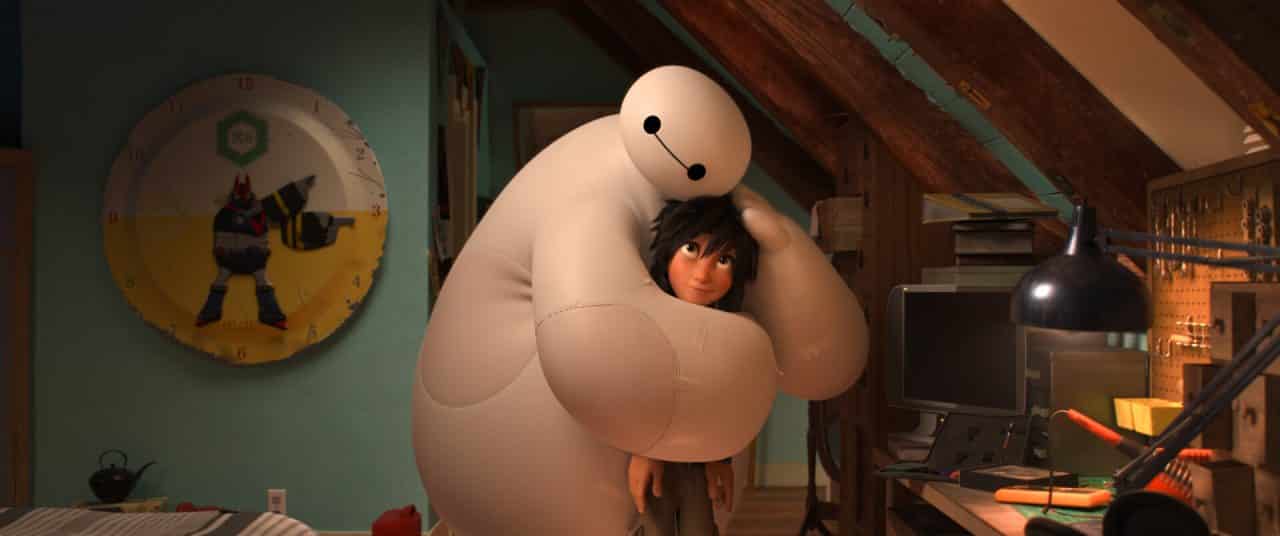 Tadashi sneakily offers to accompany Hiro to his next robot battle but detours to the local college science lab where Tadashi introduces Hiro to a cast of gifted students creating all sorts of interesting tech gadgets. Hiro is drawn to the students and learns about a contest that guarantees the winner a spot in the prestigious college. Leaving the robot fights behind, Hiro sets out to win the contest but instead accidentally provides the perfect tool for destroying the city.
Thankfully, Tadashi had already created the perfect companion for Hiro and the rest of Big Hero 6—a robotic health companion named Baymax that looks more like a marshmallow than a fierce fighter. Baymax has a robotic skeleton surrounded by air-filled balloon-like material to provide a friendly appearance for the health companion. Baymax inflates upon the distress of his human and can only deflate when you are satisfied with his care. This behavior leads to many hilarious situations for the group but ultimately saves their lives many times over.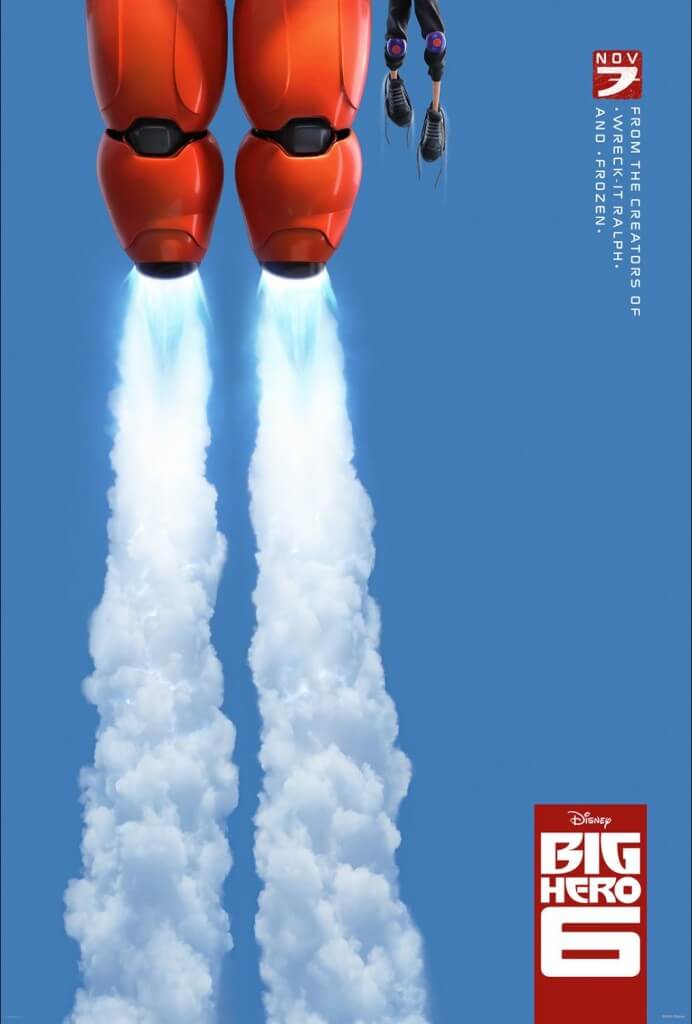 We loved the movie and the boys are already planning a family movie night so Grandma can watch it. But they're willing to see it again and again in the movie theater before it comes out on DVD and Blu-ray.
From Walt Disney Animation Studios, the team behind "Frozen" and "Wreck-It Ralph," comes "Big Hero 6," an action-packed comedy-adventure about the special bond that develops between Baymax (voice of Scott Adsit), a plus-sized inflatable robot, and prodigy Hiro Hamada (voice of Ryan Potter). When a devastating event befalls the city of San Fransokyo and catapults Hiro into the midst of danger, he turns to Baymax and his close friends adrenaline junkie Go Go Tomago (voice of Jamie Chung), neatnik Wasabi (voice of Damon Wayans Jr.), chemistry whiz Honey Lemon (voice of Genesis Rodriguez) and fanboy Fred (voice of T.J. Miller). Determined to uncover the mystery, Hiro transforms his friends into a band of high-tech heroes called "Big Hero 6." BIG HERO 6 opens in theaters everywhere on November 7th! Download some great family activities here.
This post brought to you by Disney Enterprises, Inc.. Our family was invited to an early screening of the movie. All opinions are 100% mine.