This is a hidden genre of movies. One that you typically would not look for but can be so good. Movies about news shows or if it's older aged movie news programs and newscasters. Lots of effort and drama happen to bring the news to you on tv, and these movies dig into that.
When you want to watch a show you would never think of on your own, this is a movie to see, and I bet you will be pleasantly surprised by how good it can be.
#10 Anchorman: The Legend of Ron Burgundy & Anchorman: The Legend Continues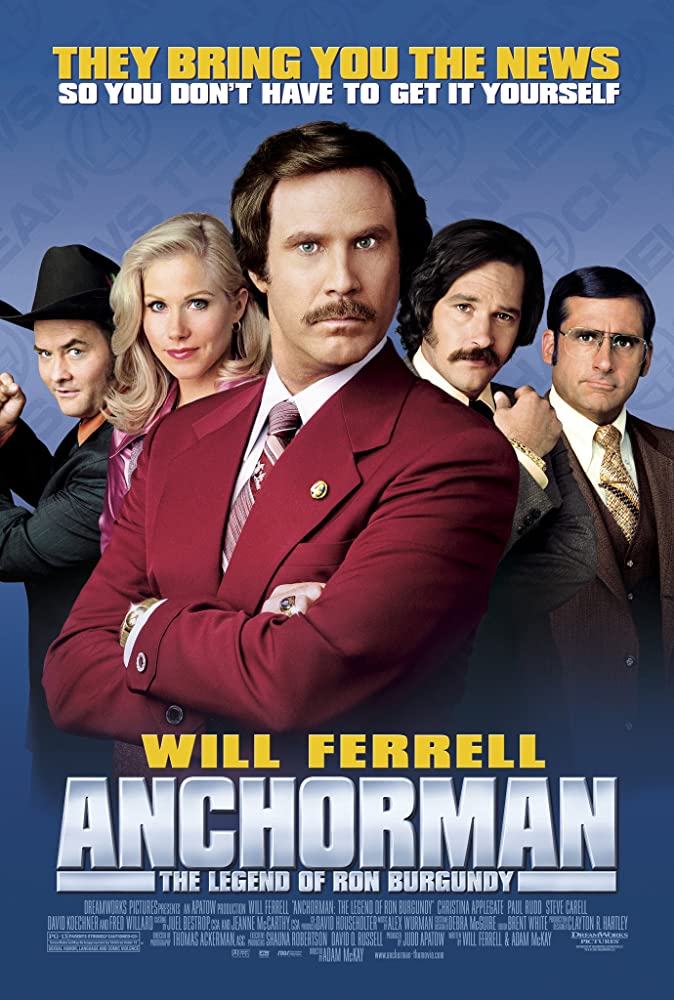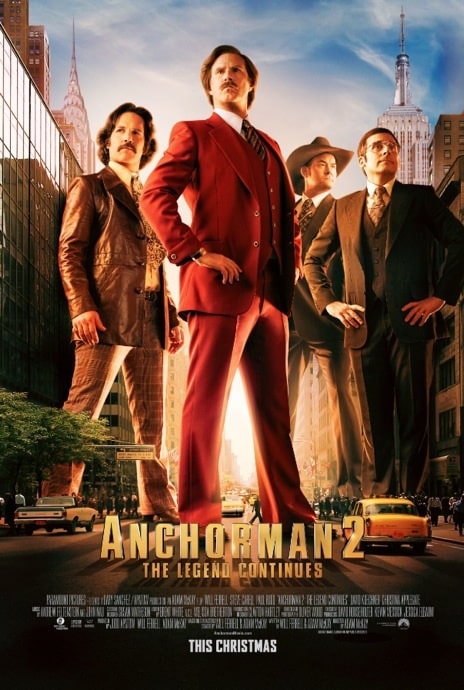 Ron Burgundy managed to pull off something I have never done before. 2 movies make a list together. While one is a sequel, they still tie and come in together. You can't just see one of these movies; you need to see both. Let me rephrase that; you must see both.
While this is a very funny movie, it takes a serious issue as it takes place in the 1970s and centers around a successful newsman that is having to cope with a motivated woman in this male-dominated profession(at the time.) The sequel has Ron Burgandy moving to New York to state a cable news channel. The movie stars Will Ferrell and Steve Carell with Paul Rudd, Christina Applegate, and David Koechner.
#9 Broadcast News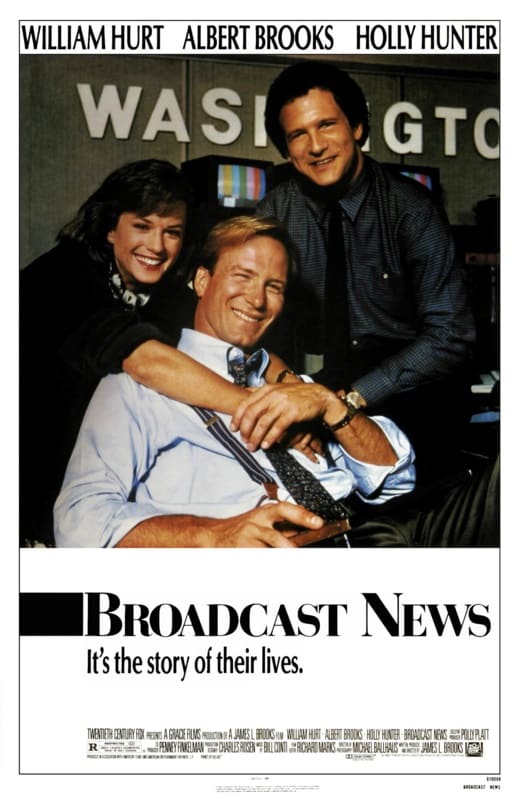 Broadcast News takes on the age-old rivalry that is more important, which can be more successful, talented, or good-looking. With that being said, this film has direction, yet it doesn't. Is it a serious drama? Yup. Is it a comedy? Yes, it is. It even adds some romance to the mix. In 1987 this was advertised as a drama, but by today's standards, I would lean towards it almost being a romantic comedy but not a cheesy one.
Broadcast News features William Hurt, Albert Brooks, Holly Hunter, and Jack Nicholson. While the story may seem a little generic, the writing is superb, as is the acting, plus these are real-world scenarios that do happen. We all know looks matter in a professional public-facing position, even if they shouldn't.
#8 Switching Channels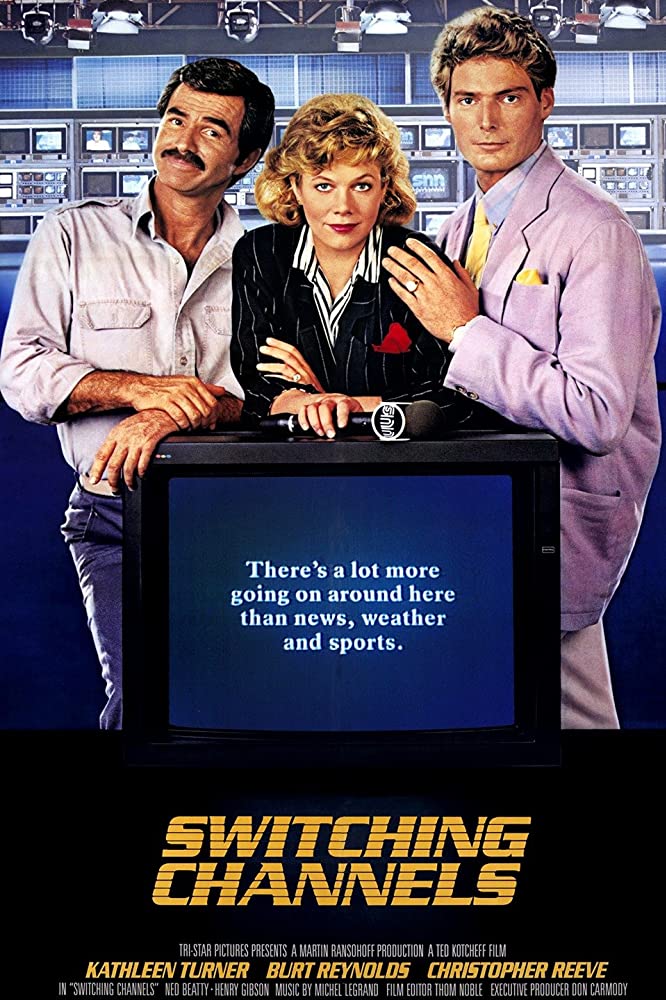 Switching Channels is about an innocent man about to be executed and the reporters who try to bring this story out to the public and encourage the governor to pardon the condemned man.
Of course, the news chief needs to have his star reported on this, who happens to be his ex-wife engaged to marry someone else. As she gets married, she wants to quit the news business. He has to sell her on staying on board to save the life of an innocent.
This movie, surprisingly, was not dull, and I liked it. I did not imagine this movie would make it on my list before I watched it. The cast of Switching Channels is excellent, with Burt Reynolds, Christopher Reeve, Kathleen Turner, and Ned Beatty.
#7 Up Close and Personal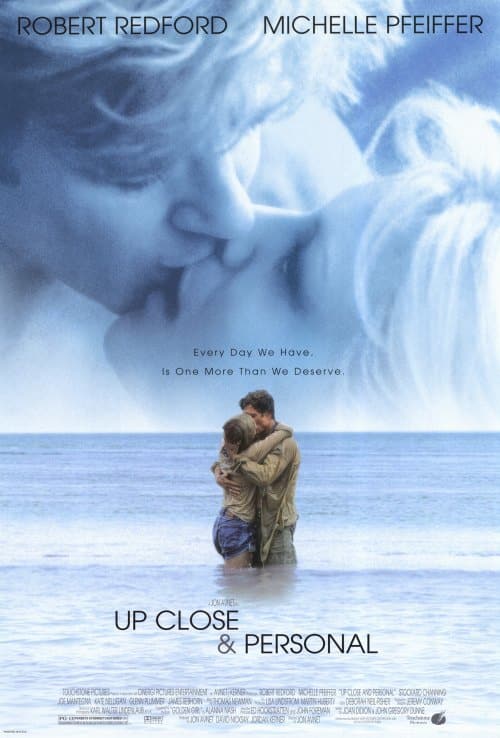 The News industry is a cut-through business, and so much more so for Tally Atwater, who in the 1970s became the first woman anchor. Her only problem with this industry is it makes it hard on her when she finally falls for a guy.
My only complaint about this movie is it goes a bit slow. Everything is fantastic other than it is very drawn out at times. Michelle Pfeiffer and Robert Redford star in the film.
#6 Newsfront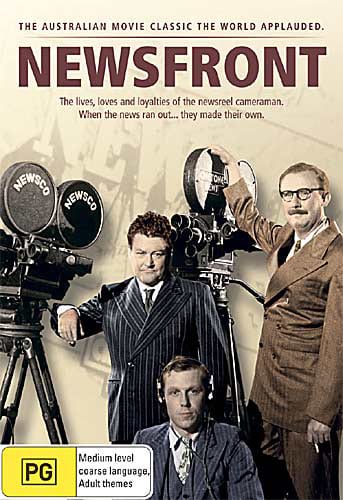 This Australian drama is almost more of an action movie than a drama. It follows a group of cinematographers and reports who risk life and limb to capture footage of the war and other breaking news events.
Even Australians will not recognize this movie's stars, Bill Hunter, Gerard Kennedy, and Chris Haywood.
This is a great film for everything you will learn from it. And you will learn something from this movie; the filmmaking is top-notch. While this movie was released in 1978 and was filmed in black and white to blend in real footage from a cameraman, including a scene where a cameraman films the sniper that kills him.
#5 Talk Radio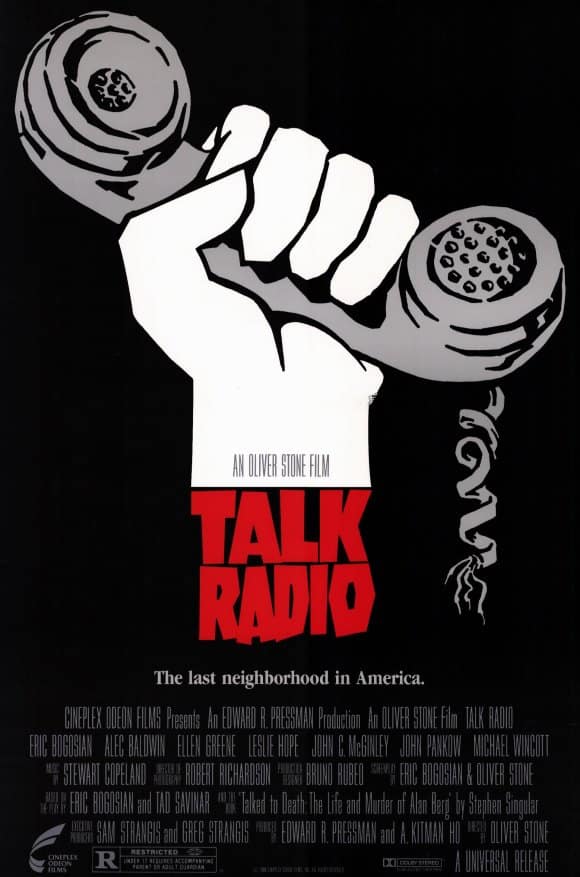 Talk Radio tells the story of Rush Limbaugh and how his stardom happened; Nah, just kidding, not really.
Talk Radio is about Barry, a talk radio host out of Dallas that is about to hit it big time. His little show is going to be carried nationally, but he has to fight the network for free speech-related reasons, plus he is forced to battle with a neo-nazi gang.
This is a fun and informative movie that is not preachy at all. Eric Bogosian created and stars in the movie with Leslie Hope and Alec Baldwin.
#4 Bombshell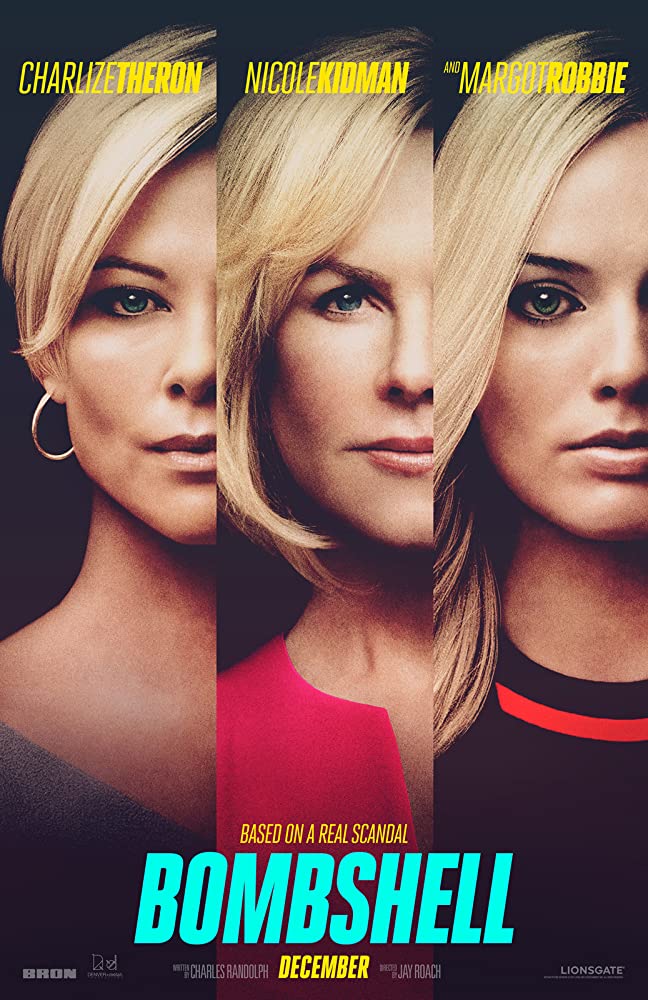 Knowing that this is a news person movie looking at the artwork for it, what do you think it's about? I need a tip; it's a news network. This is a movie about the toxic atmosphere towards women at Fox News.
Fox News does have a type for their female on-air talent, don't they? Margot Robbie, Charlize Theron, and Nicole Kidman star in this expose into the inner workings at Fox News.
This movie is about true stories of harassment at Fox News and was ultimately created by Roger Ailes. It is a hard movie to watch due to its content, but it is one that we should.
#3 The Insider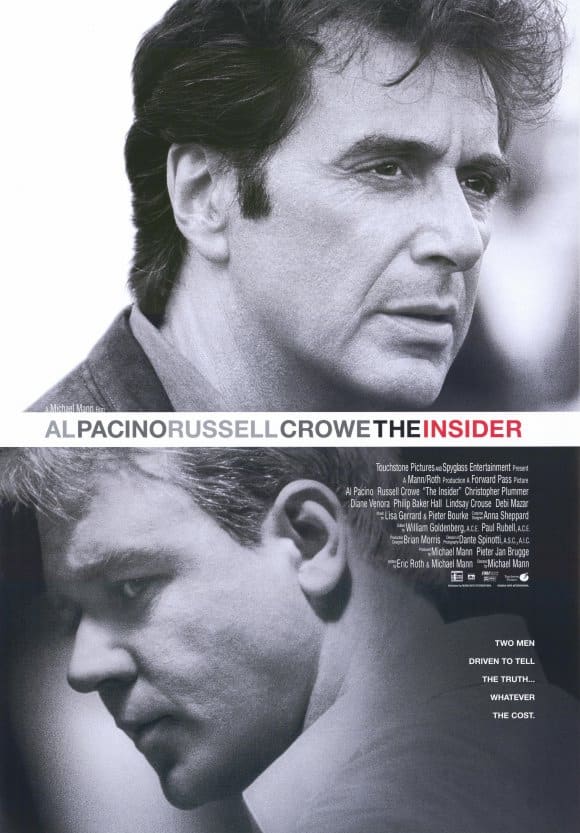 This movie is a nail-biter and stars actors that you can't get any better. This movie has Al Pacino, Russell Crowe, and Christopher Plummer in no particular order! Who else could you ask for?
This story is about a research biologist who does not want to be interviewed but changes his tune among tons of personal unrest, agrees to be interviewed live on air, and exposes all the dirty secrets of big tobacco.
This movie is excellent even though it was not a box-office success. This movie is not as severe and drawn out as the marketing made it sound; to this day, The Insider is underrated but not here, which is why it is our #3 news movie.
#2 The Loudest Voice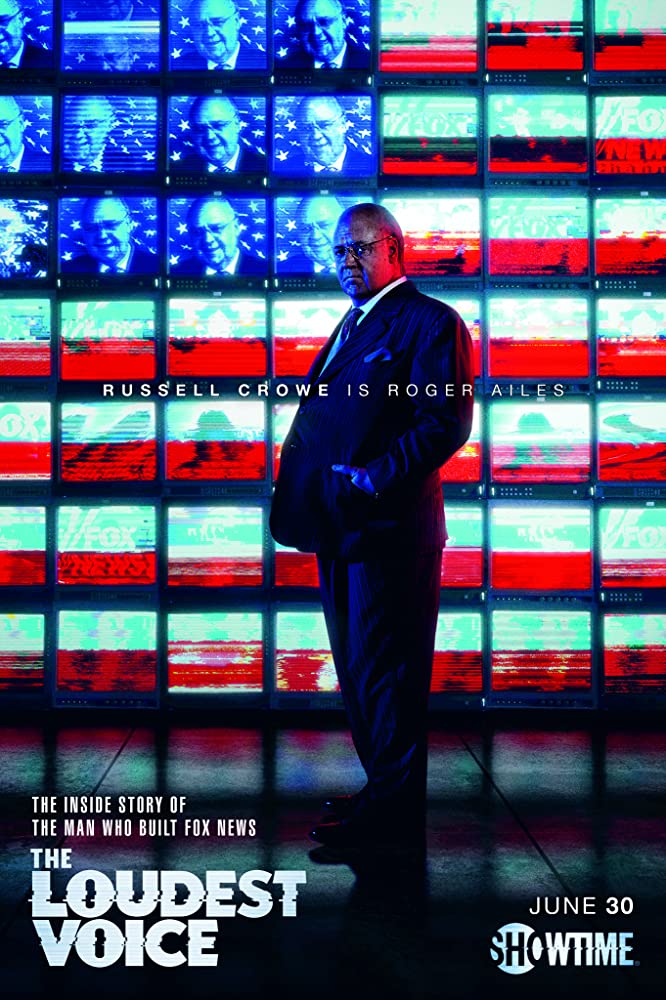 This is an exception to our movie list as The Loudest Voice is not an actual movie but a mini-series that, through 7 parts, digs into how Roger Ailes, the founder of Fox News, became the Republican Party leader all during numerous too many to count sexual harassment accusations.
Russell Crowe is doing tv. Has that ever been seen before? Getting that out of the way, these seven parts are to die for. Once you start watching The Loudest Voice, you will not want to turn it off and will end up binging the entire mini-series.
#1 The Newsroom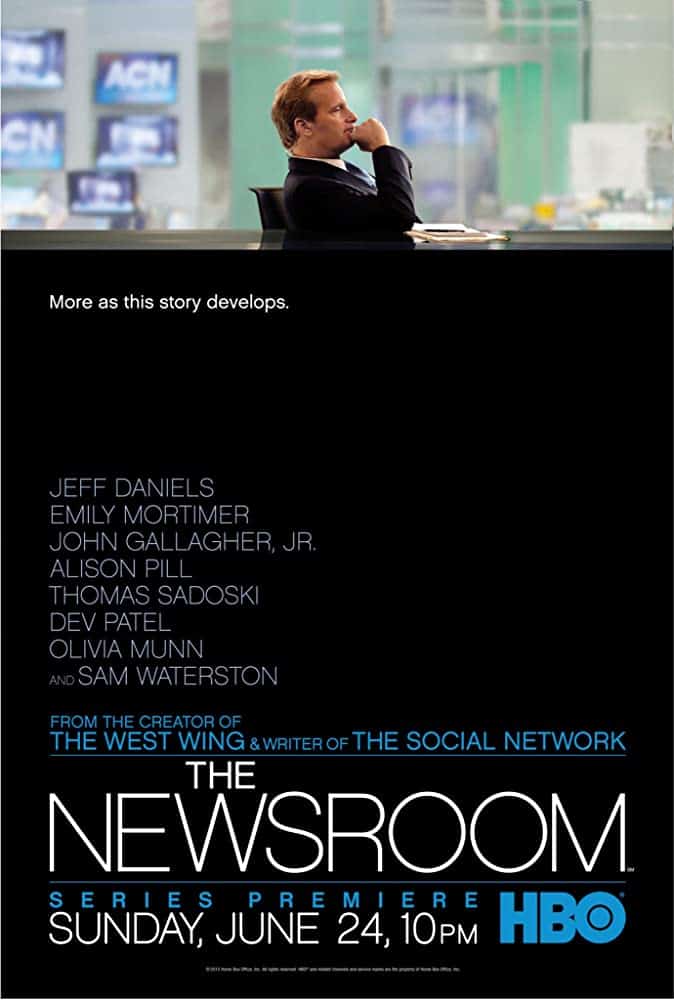 I remember watching this show when it was still in the air. At this time, we would only watch shows from our DVR for convenience(hey, this was just as Netflix was getting popular for streaming, and you could only stream shows after the season was completed.) this was one of the few shows I would try to watch the same night which was a few very select shows like Game of Thrones, True Blood, and Dexter.
You may not recognize all the names in The Newsroom, but you will recognize the faces. This ensemble cast is Jeff Daniels, John Gallagher, JR, Emily Mortimer, Alison Pill, Olivia Munn, Dev Patel, Thomas Sadoski, and Sam Waterston.
Just like its name, The Newsroom is about a newsroom and the daily challenges, workings, and moral dilemmas in this drama. The Newsroom has so many subplots we can't dive into them now, but they more than make the show what it truly is. The Newsroom has something for everyone.